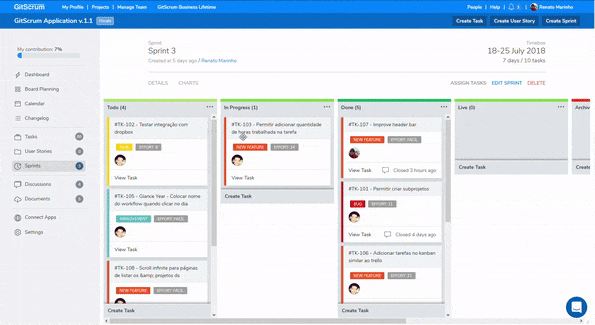 Tailor-made features
If you are building the next unicorn startup, GitScrum is the best for you!
Features your team will love
Team Performance
Gitscrum metrics to know immediately if you are on track, and make adjustments on the fly.
Scrum Metrics
Measure team behaviors using work in progress, defect detected, charts and others.
Sprints
Create sprints of two weeks or one month during which a potentially releasable product is delivered.
User Stories
Allow the development team to focus their efforts on a complete piece of functionality.
Board Planning
Move tasks like cards on a kanban board in order to take advantage of agile workflow.
Flexible Workflows
Custom columns, there is no prescribed workflow to follow. Instead, you adjust it your needs.
Integrate with tools you already use
---
GitScrum allows you to track project progress on the project and profile
Discovering individual and team performance helps you understand what you can improve to increase project performance even faster.
Burndown Chart
Visualize quickly progress of project to evaluate daily performance and see if the project team are on track to finish it in time.
Calendar Mode
Calendar view (daily, weekly or monthly) gives you high-level visibility into your tasks that have already been completed or scheduled.
Documents
Share files with your teammates inside of their project. You can upload files from your computer or sync with Dropbox. Unlimited Storage!
All the features you'll need
GitScrum has more than 40 features for your team
Integration to Sync Tasks
Vote to User Stories and Tasks
Sync documents with Dropbox